Planning is a crucial part of any SEO campaign, and this campaign was no different.
Before you start diving into content creation and link building, take a step back to analyse the following:
These metrics will give you a good overview of where you are compared to your competitors, as well as how difficult it is going to be to compete against them.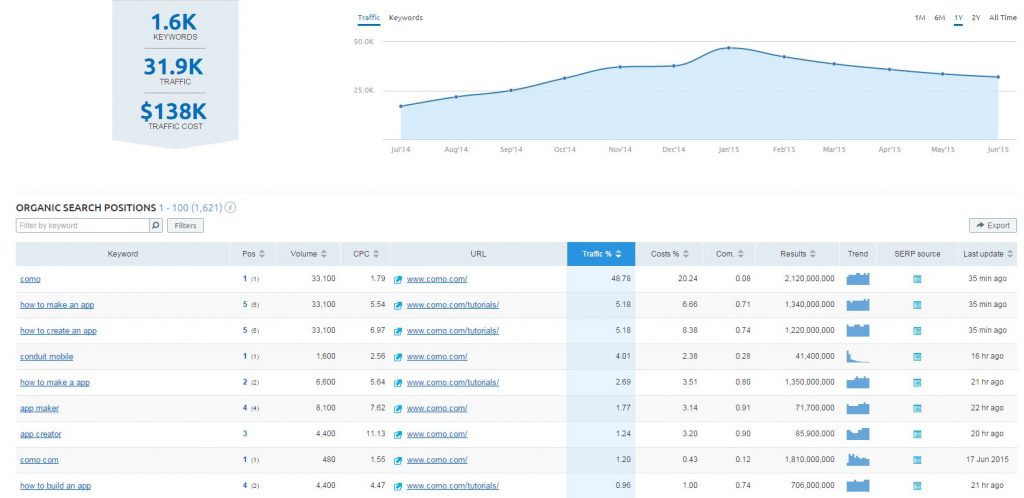 Alongside this, you can use a tool like SEMrush to find out which specific keywords your competitors are ranking for. I'd export all of this data and save it for when you carry out keyword research.
I'm not going to go into much more detail on the competitor analysis side of things because I've covered this loads of times before. Go and check out this article, as it goes into much more detail on analysing links.
The Traffic Opportunity
The next step of your analysis should be based around the potential volume of traffic that you could bring through from the campaign.
For this, you'll need to conduct some pretty extensive keyword research. If you've not had any experience with keyword research before then I'd recommend watching my keyword research video. I'd also recommend checking out Nick Eubank's 7 day keyword research course – it's incredible.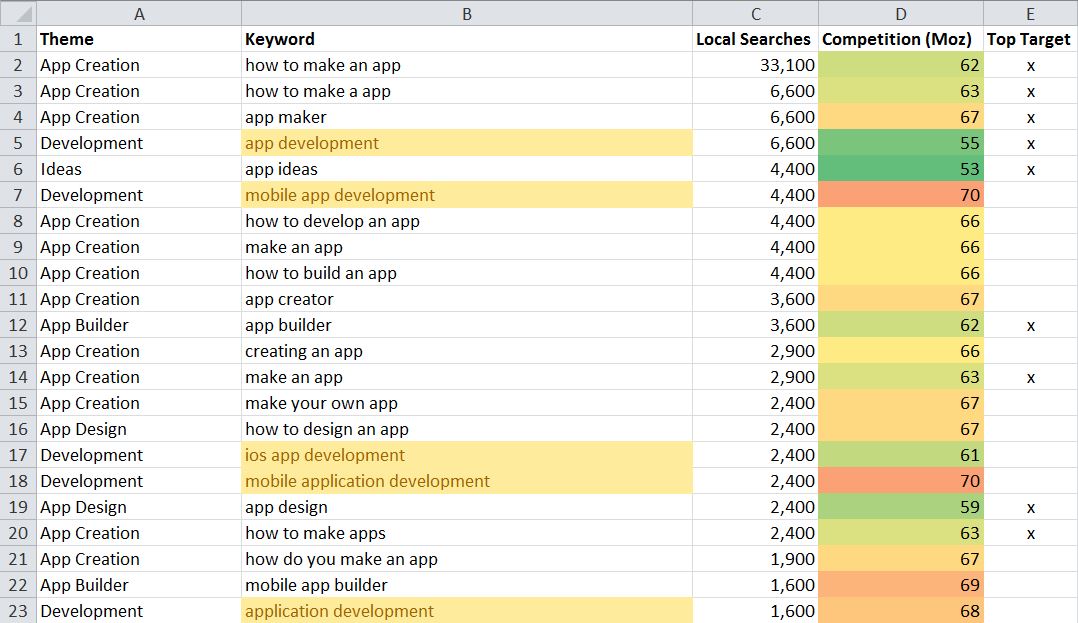 For the BuildFire campaign, there was a list of keywords that stretched into the thousands. The most important thing here is to categorise, analyse and prioritise.
Categorise: group each of your keywords into topic-focused categories. For example, keywords within the 'App Creation' category include, 'make an app' and 'how to build an app'. Alongside this, you can group keywords based on searcher intent. For example, keywords with transactional intent will usually contains words like 'buy', 'price' or 'deal'.
Analyse: get an understanding of the monthly search volume for each phrase as well as the difficulty score.
Prioritise: filter down your large list of keywords to prioritise search terms that hold particularly close relevance to your product, have large search volumes and low difficulties. It's always good to place more transactional search terms near the top of your list too.
Auditing Existing Content
If you're not starting your campaign with a completely new website, you may discover that there's a lot of content on your site that already has some good visibility in the search engines.
Even if your existing web content doesn't bring through a lot of search traffic, you could update it and get some great results.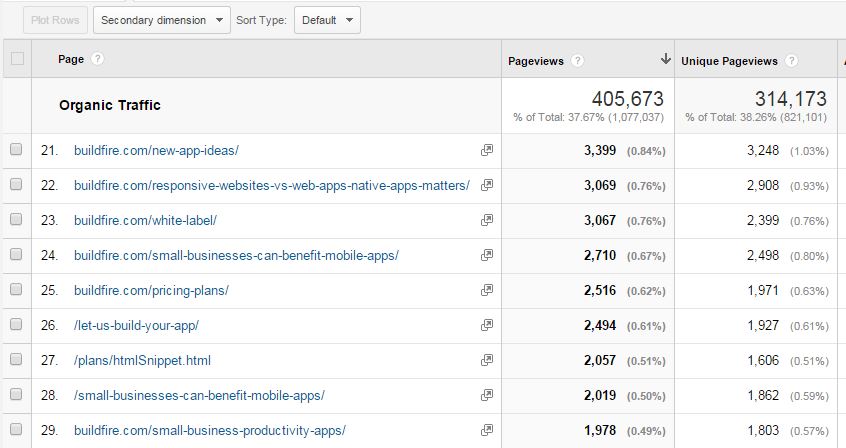 It's fairly simple to perform a quick audit like this. Hop on over to Google Analytics and navigate to Behaviour>Site Content>All Pages. Once you're there, filter down to show only organic search traffic and you'll get a list of the top webpages bringing search traffic through to your website.
You could go in and optimise these pages with more call to action so that they convert better. It's a great quick win.
Alongside Google Analytics, you can see the top pages from your website based on search visibility within Google Search Console.
If you'd like a little more information on carrying out a full content audit then check this article out.
Industry Content Analysis
There's a lot of insight that can be gained by analysing top industry content. One of my go-to tools for this is BuzzSumo.
To begin with, I plug a few of my main competitors into BuzzSumo to see what type of content they're producing that's getting shared heavily.
It's pretty clear to see the themes and topics that work well through BuzzSumo's interface. To expand on this further, you can use a tool like Majestic, Ahrefs or Open Site Explorer to analyse which webpages on your competitors' website have been linked to most.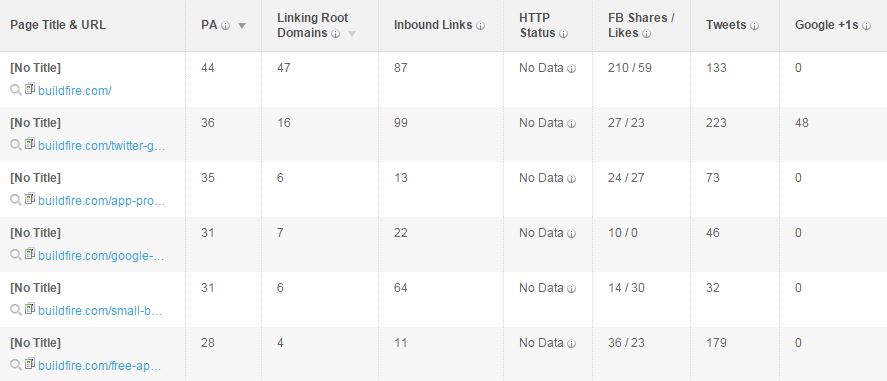 The information that you gather here will help to shape a structured content plan for your campaign moving forward. Within the BuildFire campaign, a competitor and industry analysis report was compiled with all the data that had been gathered, along with a full strategic commentary to make sense of it all.
This document was consistently referred to when developing the content strategy.
The Traffic Generation Strategy
Now I'll get onto the bit you really care about. This is the part that showcases how you can take your web traffic from zero to one million.
For those of you that'd like to quickly browse each of the individual tactics that were employed, here's a quick menu you can navigate through:
#1 Parasite SEO
The first strategy that I often look to when I'm working on a brand new site is parasite SEO.
Now, before you start asking me whether this will get your site banned from Google, take a deep breath. I'm not talking about using any black hat SEO techniques here.
The goal of parasite SEO focuses on tapping into the authority of well-established websites to rank for competitive keywords and consequently funnel through the traffic to your own website.
An example of this could be writing a guest post on a leading industry publication that links to your website within the article copy. In this case, you'd want the guest post to rank for specific keywords so that it generates more traffic; this will then create more referral visits to your website.
Why wouldn't I just do this on my own website?
I can already hear you asking that question.
The answer is short and simple. Authoritative websites can rank for highly competitive keywords much quicker than your low authority site.
In some cases, it can take little to no effort.
It's also worth noting that sharing a link from a site you haven't created can often be a lot easier because it isn't viewed as being self-promotional.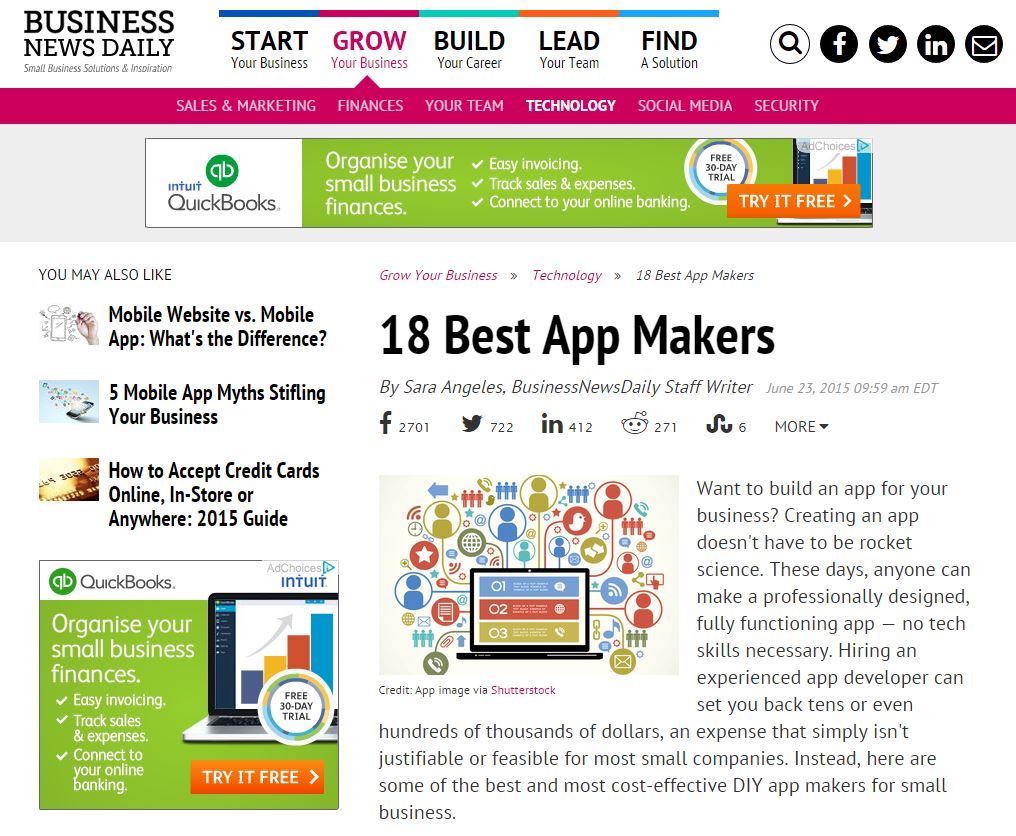 The above article was published on Business News Daily, an authoritative blog covering all kinds of business topics.
BuildFire was linked to within the article during the first month of going live. After only a few weeks, this article ranked on page 1 (and still does) for the term 'app maker' (searched for over 22,000 times per month), amongst a number of other competitive keywords.
This was helped by the fact that we actually spent time on promoting the article and acquiring links for it in the same way that would have been done for content on BuildFire's website.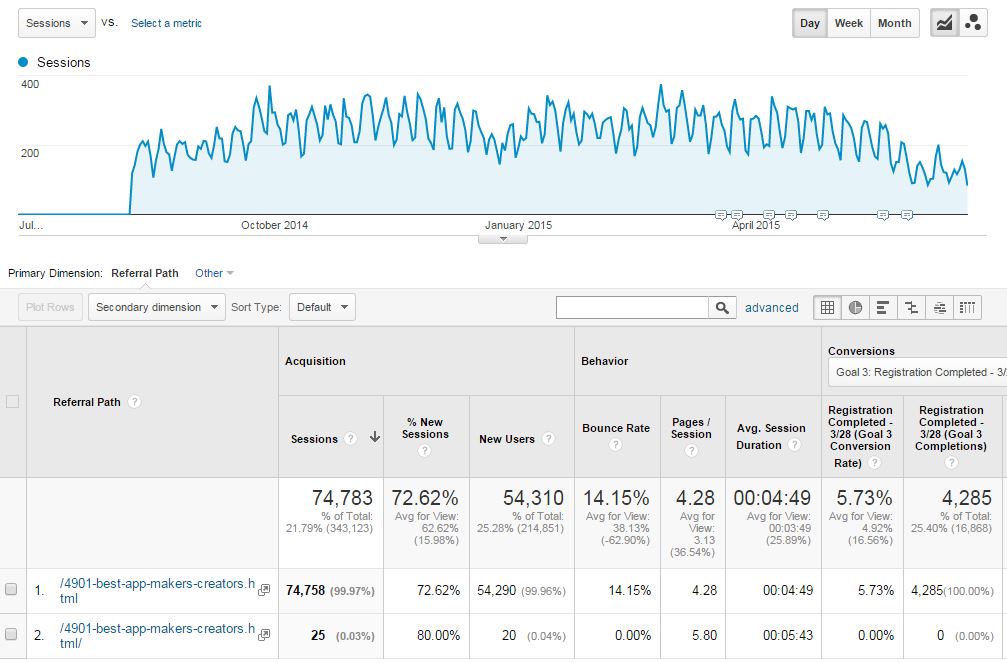 As you can see from the above screenshot, this has resulted in a staggering 74,783 new sessions and 4,285 new user registrations.
When you consider that this scales quite well, you can imagine how easy it is to start getting early traffic traction.
I also find that these kind of features help grow brand awareness, which results in more branded searches; this metric has a direct correlation with increased search engine rankings.
Self-publishing Parasite SEO
Within the above example, the link was gained through direct outreach but you can often tap into self-publishing platforms to make this process even easier.
This is something that I've done a lot of, particularly within BuzzFeed. Getting published on BuzzFeed is extremely easy and the content on their site ranks really well.
The above post was to drive traffic through to my food blog. This article started ranking from a number of 'vegetarian recipe' related keywords and continues to bring a steady stream of traffic through to my site.
BuzzFeed is just one example of where you can do this; get your creative hat on and you'll start uncovering a ton of new opportunities.
#2 Product Hunt
For those of you that haven't heard of Product Hunt, here's a brief overview:
Product Hunt surfaces the best new products, every day. It's a place for product-loving enthusiasts to share and geek out about the latest mobile apps, websites, hardware projects, and tech creations. (
source
)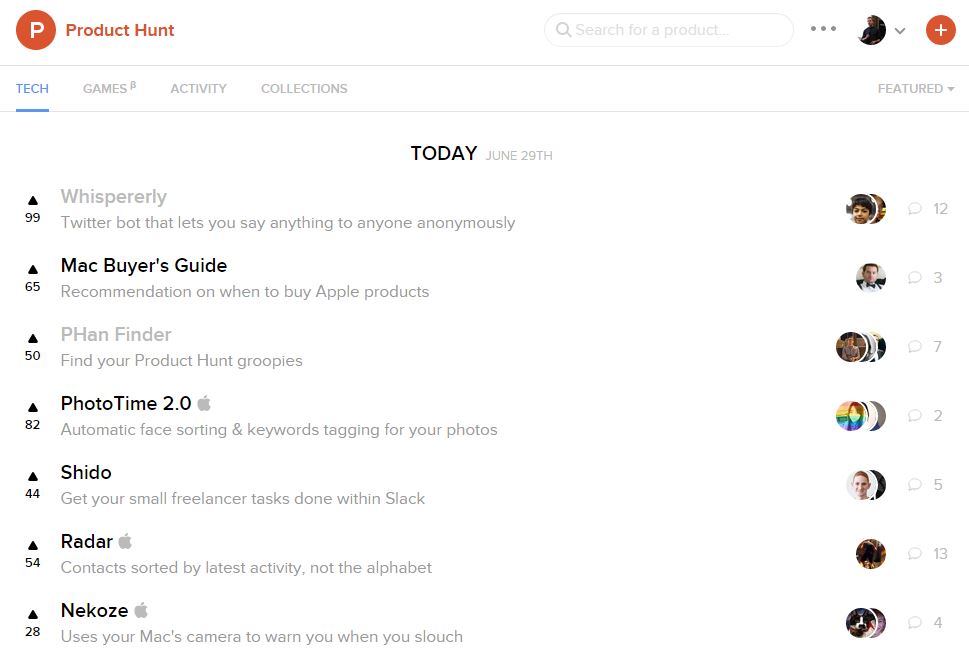 Quirky SaaS products tend to perform particularly well within Product Hunt but it's certainly not limited to that.
Taking a look at the most popular Product Hunt submissions of all time will reveal all kinds of products (both free and paid). This includes Startup Stash, a curated list of resources and tools for startups; Periscope, Twitter's live streaming app; Tesla Powerwall, the sustainable home battery from Tesla, and Lily, the exciting new camera drone that is set to rival GoPro.
I can tell you from personal experience that a feature on Product Hunt's front page will result in several thousand visits to your website, plus a number of new customers.
This is exactly what we did with BuildFire.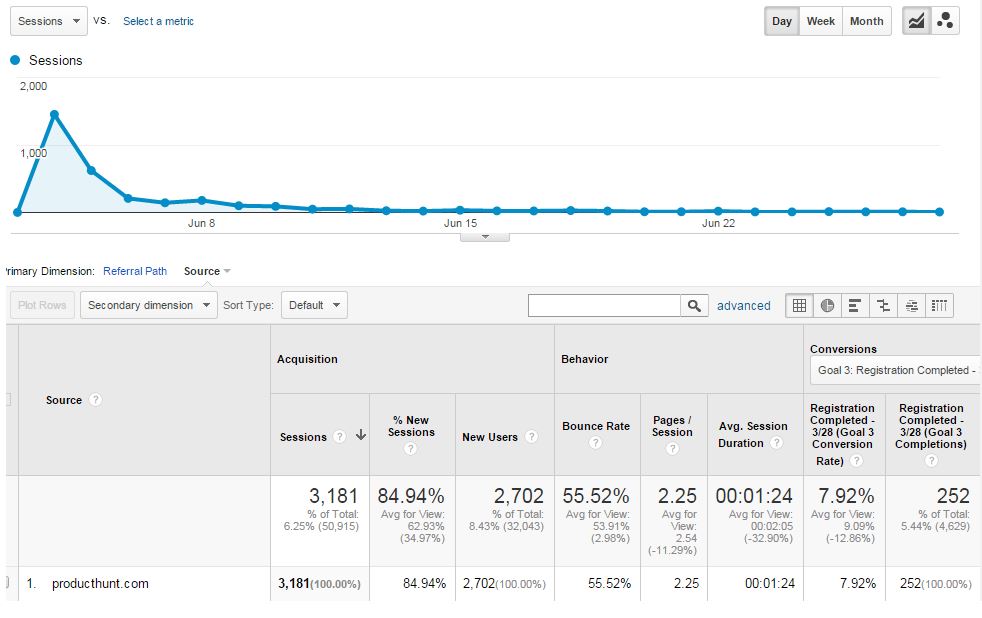 As you can see from the above screenshot, BuildFire gained over 3,000 visits from hitting Product Hunt's front page, with 252 of those visitors converting.
BuildFire didn't hit the very top of the front page but the listing was within the top 10, which is a feat in itself (as you'll see below).
For those lucky enough to hit the very top of the front page, traffic can be in excess of 10,000 visits.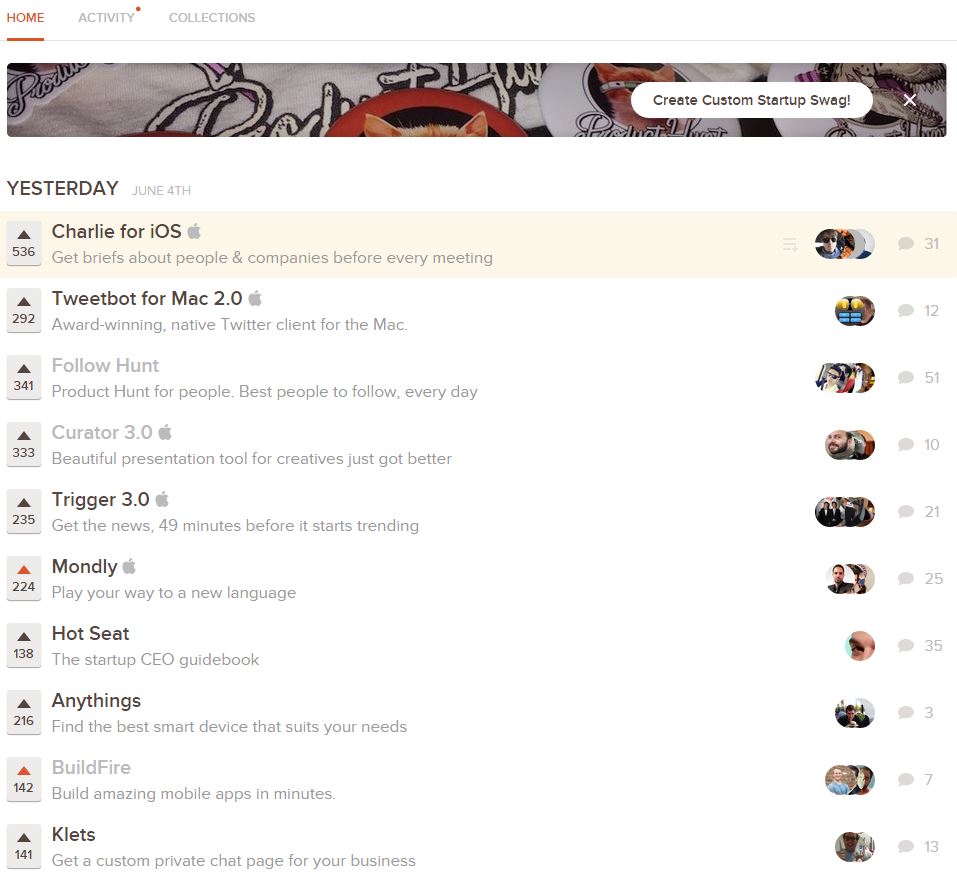 The final vote count was over 210, which on some days would leave you sitting within the top 3 submissions.
Before I go into the details of how we got to the front page, it's worth noting that you need to have a fundamentally useful product/service to stand a chance. If you don't, Product Hunt may be the least of your worries…
Getting Featured on Product Hunt
Like most online communities, Product Hunt has a loyal tribe of followers.
Within the community itself, the more active and engaged members hold more authority when it comes to getting a product featured.
One of the main reasons for this is that all of your followers are sent a notification when you submit something new.
More followers = more early traction. More early traction = a greater chance of getting featured on the front page.
This is one of two reasons why you shouldn't just create an account and submit your own product straight away.
The second reason is down to the fact that you can only submit and comment on Product Hunt if you've been invited. You can't post and comment with a basic account.
This is Product Hunt's way of moderating the community and it works really well.
My advice is to find influential Product Hunt members and introduce your product to them.
This is exactly what we did with BuildFire.
If you're wondering how you'd go about this, then I've got a really quick and simple process to follow:
Log-in to Twitter and type the following query into the search bar:

via "on @producthunt" from:producthunt

The resulting list of tweets will consist of any new submissions to Product Hunt along with the person who submitted it.
Find someone who's submitted a similar product to yours and get in touch with them.
Note: Don't approach anyone and offer to pay them to submit. That could land you in hot water and prevent your product from ever being allowed on Product Hunt.
Rising Through the Ranks
Once you've been submitted to Product Hunt you'll want to start acquiring votes to rise up through the ranks on the front page and absorb more clicks.
Make sure you plan this out in advance because if you leave everything to the last minute, you'll likely miss out on some extra traffic.
Here's what we did for BuildFire:
Set up a specific Product Hunt page with an offer for all Product Hunt members. We shared this within the comments and asked the PH moderators to update the submission to this URL, which they kindly did.
Marked the founders as 'makers' on the Product Hunt listing (you can do this within PH or by tweeting them).
Had the founders – in this case it was Ian – on standby to answer any questions from the Product Hunt community.
Used Hello Bar to bring through visitors from Product Hunt to exclusive offers (this increases conversion rate dramatically).
Sent out an email to the subscriber list to ask them to comment/upvote.
Ran Twitter ads targeting anyone that follows the Product Hunt Twitter account (this did wonders for acquiring votes).
Shared the submission across all social channels with custom imagery.
The listing on Product Hunt was a huge success and didn't just leave BuildFire with a surge of new users, but it's also resulted in a ton of extra exposure, including a link from Entrepreneur.com, a linked mention from a popular podcast (DA77) and many more.
#3 Influencer Outreach
A lot of people ask me how to get links from top tier publications like Forbes, Huffington Post, Entrepreneur, et al.
The fact is that it's pretty difficult to get links from these kinds of sites, even when you have a great product. Getting in touch with the editors is close to impossible because they have so many requests coming through to them every day.
My advice is to focus on the contributors as opposed to the editors themselves.
Let's take Entrepreneur.com as an example.
The site has tons of different contributors that write content for it on a regular basis. A number of these authors write for other big publications too. If you're able to get in their good books then you may be able to get them to consider linking to you within some of their articles – or even better, they'll link to you naturally.
Influencer Identification
A huge task at the start of the BuildFire campaign involved earmarking a number of influencers within the industry that wrote for the publications we wanted to get into.
To do this, I extracted a huge sample of the author pages from Entrepreneur.com and scraped the data for each individual author, including their name, social accounts, bio and the title of their last post.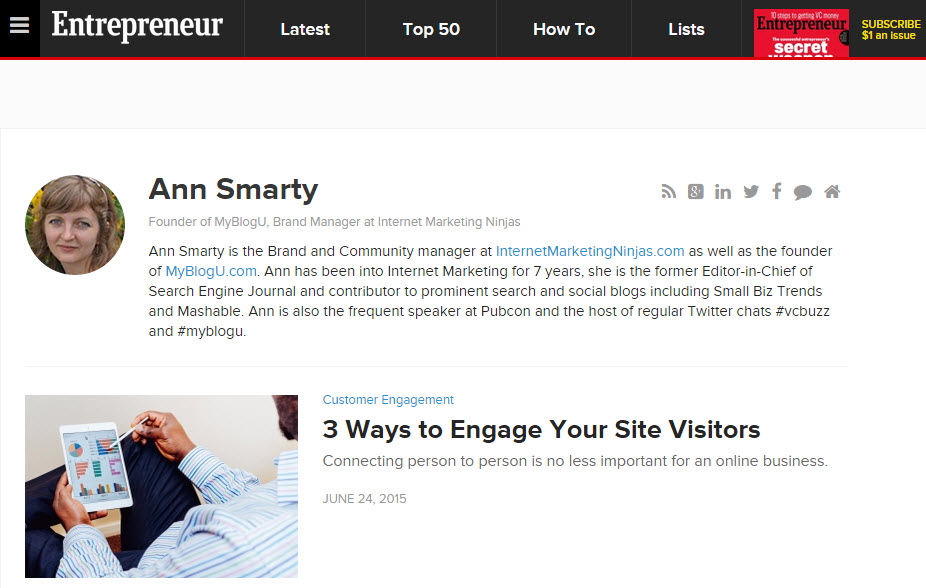 Once I had all of this information, I organised it within a spreadsheet and filtered down to the titles of the most recent articles to find keywords related to apps or mobile.
This helped me find authors that covered topics related to BuildFire.
This was the target list of authors that we needed to influence. One of these was Ann Smarty (as shown above). The next step was to get in touch with them.
The most important thing here is to avoid asking for something.
Before you even begin getting something back, you need to give something. In this case, we approached a handful of influencers and offered to give them a free app for their blog/website.
Ann was one of those that became interested and we went on to develop her Content Marketing Training App for Viral Content Buzz.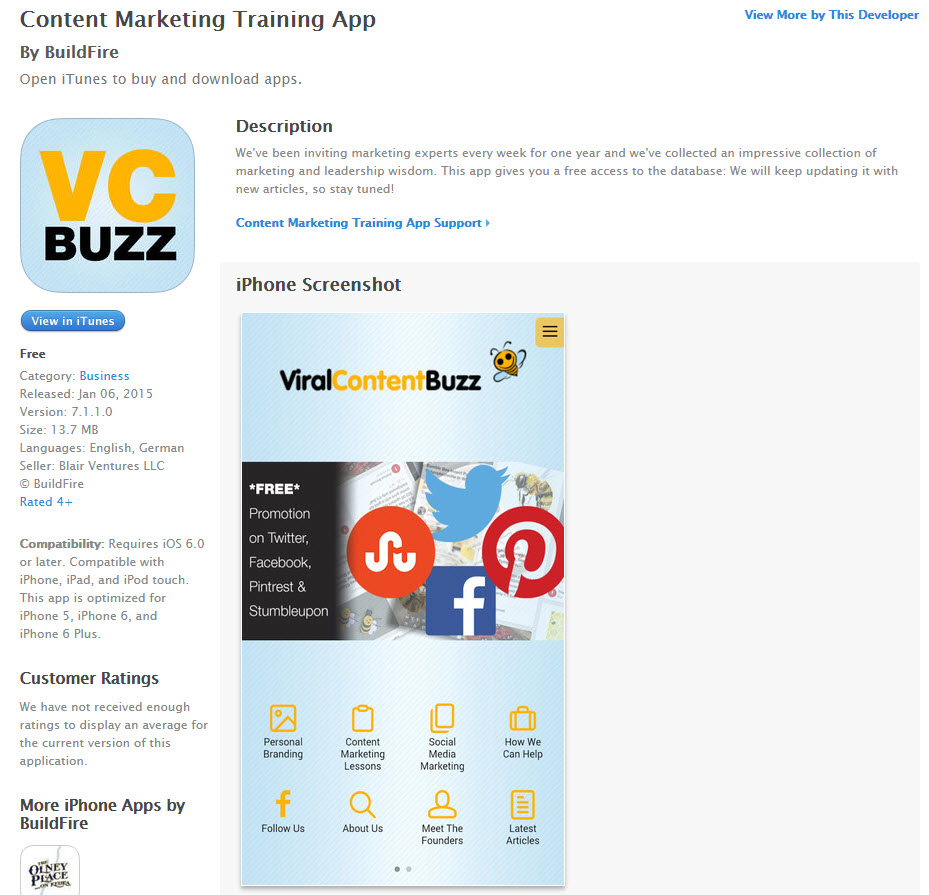 As a result of the relationship we built with Ann, we gained links from Entrepreneur (DA90), Paper.li (DA77) and Inbound.org (DA55).
It's worth noting that we didn't ask Ann to mention BuildFire at all – this was purely a consequence of the relationship we built and the introduction to the platform.
Ann was one of a number of influencers that we partnered with and it's helped create a steady flow of traffic, links and brand awareness.
#4 The Blog Strategy
Before working with BuildFire there was one article on their blog and it had a handful of social shares.
After analysing a lot of their competitors, it was clear to see that nobody was doing anything overly creative; even Como, their largest competitor that has a Facebook following just shy of 1,000,000 people, gets an average of 123 social shares per blog post they write.
There was clearly an opportunity to stand out.
The problem was that BuildFire hadn't really had any kind of social presence, there wasn't any existing content and the website was completely new.
Rapidly Growing the Blog from Nothing
To make an instant impact I knew that we needed to hit a large audience. This is where we looked to build a content influencer team.
In short, this involved bringing in influential writers within the industry to become key members of the blogging team. This way we could tap into their personal network of followers and have industry-leading content.
I'm not going to go into all the detail on how we found these writers because I've described this process in detail here before.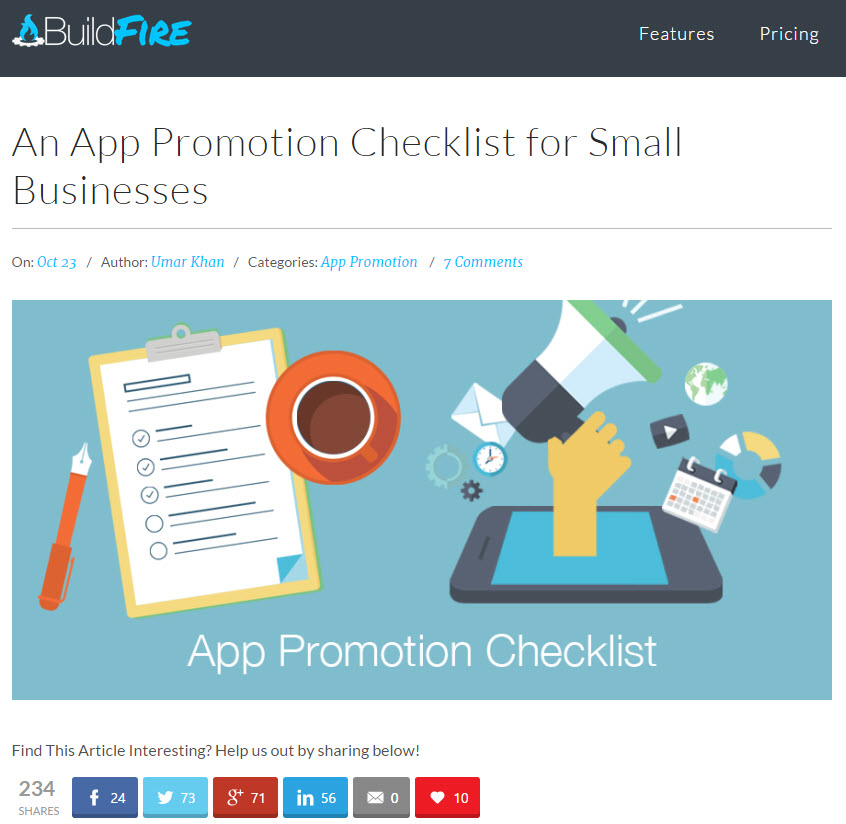 To support the blog strategy, a full content plan was developed. This is something that I'd encourage any business to do.
To populate the content plan, the following research was carried out:
Audience profiling
Competitive content analysis
Industry content analysis
Long-tail keyword research
Q&A with target audience
The long-tail keyword research played a critical role in the long term traffic growth to the website. As a result of creating well-optimised, highly shareable content, the site now ranks on page one of Google for terms like 'app ideas' and 'app promotion'.
Here's a screenshot from Webmaster Tools that shows the huge traction we've had with ranking the blog content in the search engines: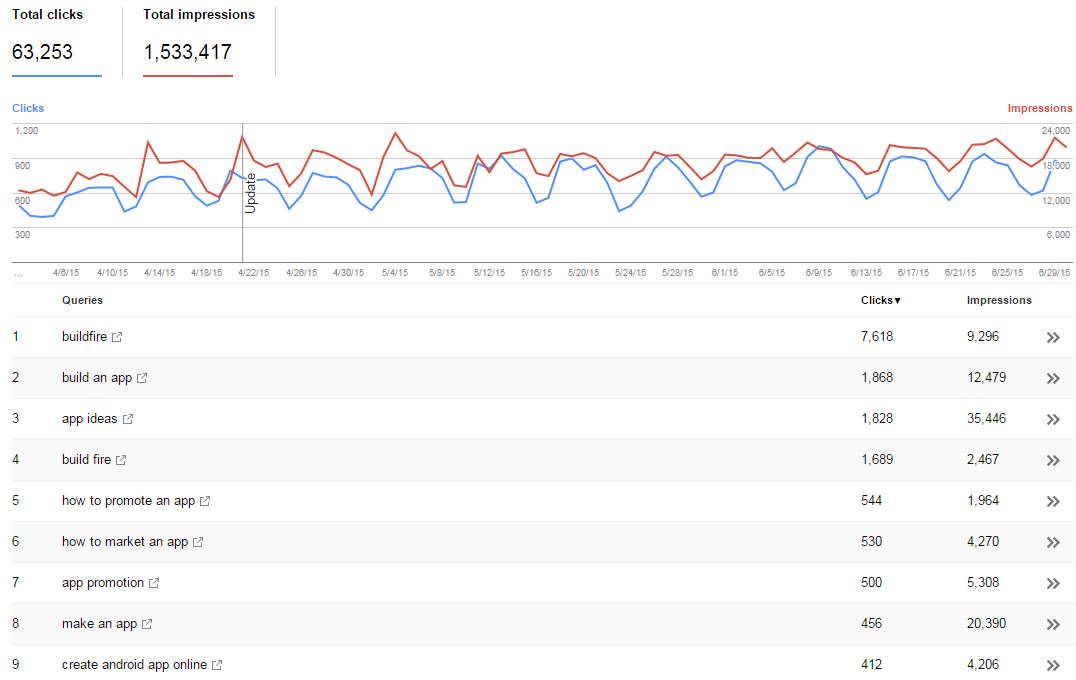 The thing to remember here is that growing a successful blog takes time.
To stay on track, set yourself small targets and reward those that share your content; make people feel part of your community and you'll soon start gaining traction.
Expert Roundups
To build awareness of the blog content amongst the target pool of influencers, I knew that we'd need to have some level of trust/authority within the content itself.
Expert roundups are perfect for this.
Expert roundups often gain large volumes of social shares, in particular from influencers with large social followings. This can provide huge traffic spikes and a ton of new followers across your social accounts.
I take part in these kinds of posts all the time and I always share the finished article.
One thing that I would say is that they're not always linked to heavily; they provide much more value from a social and traffic point of view.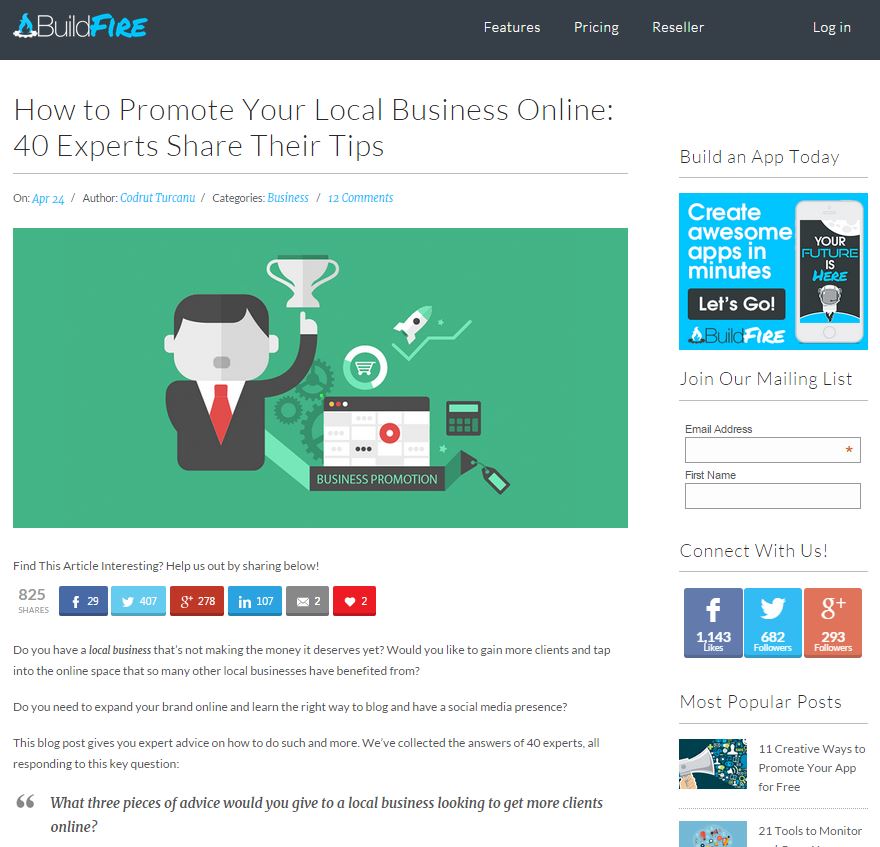 The above article was an expert roundup that we ran across 40 local business experts and it was shared over 800 times across social media, linked to by 26 domains and generated just under 3,000 visits.
For this roundup I called in the help of Codrut Turcanu to manage the expert outreach. If you're looking to run a similar expert roundup then I'd highly recommend his services.
#5 Sponsorships and Discounts
Never underestimate the value of a discount.
Offering discounts or sponsorships to major websites and events within your industry can not only land you some new customers, but it can also get you some juicy links.
One of the first tasks that I carry out in any SEO campaign is to see if there's any link opportunities from offering discounts. This helped us earn a huge link from Moz by being listed within their 'Pro Perks' section.
This discount was the same one that we offered to Product Hunt members to generate more conversions from the site.
Another route outside of offering other companies discounts is to offer them to bloggers.
If you give a blogger with a large following of readers a discount, chances are that they'll share this with their email list and within some of their blog posts.
I know this works from first-hand experience because I offer a 10% discount off of URL Profiler to any new subscriber to my email list. This was a result of the team reaching out to me.
Here's a snippet of my welcome email that offers the discount: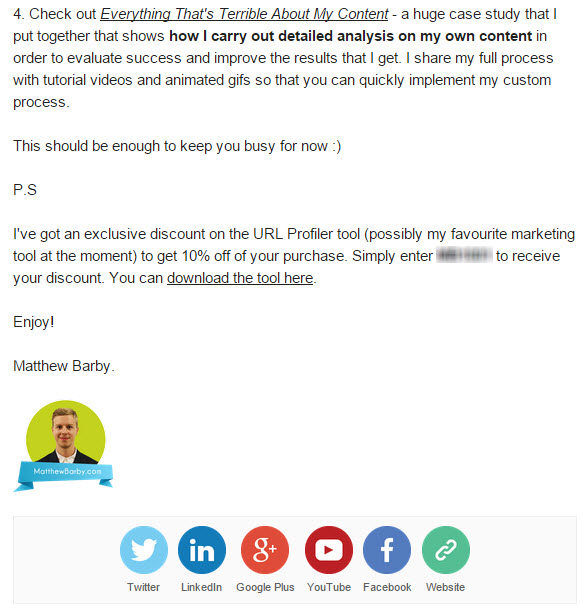 Using this approach even on a smaller scale can be just as easy, for example, in a number of campaigns that I've ran in the past I've searched through Meetup.com to find relevant local events and then contacted them about sponsorship. Nine times out of ten, the group just want a lunch put on (which isn't exactly bank-breaking) and in return they'll feature you on their Meetup page and the event website.
Not bad, right?
#6 Journalist Outreach
To earn links from some of the biggest websites online you need to catch their attention.
As a lot of you probably know, this isn't easy. Most top journalists will receive around 100 pitches via email every day, so the odds aren't exactly in your favour.
That said, there's a lot more to it than simply creating a catchy email subject. Once you do eventually catch someone's attention, you need to have everything ready to go in order to capitalise on the opportunity.
This is where you need a press kit.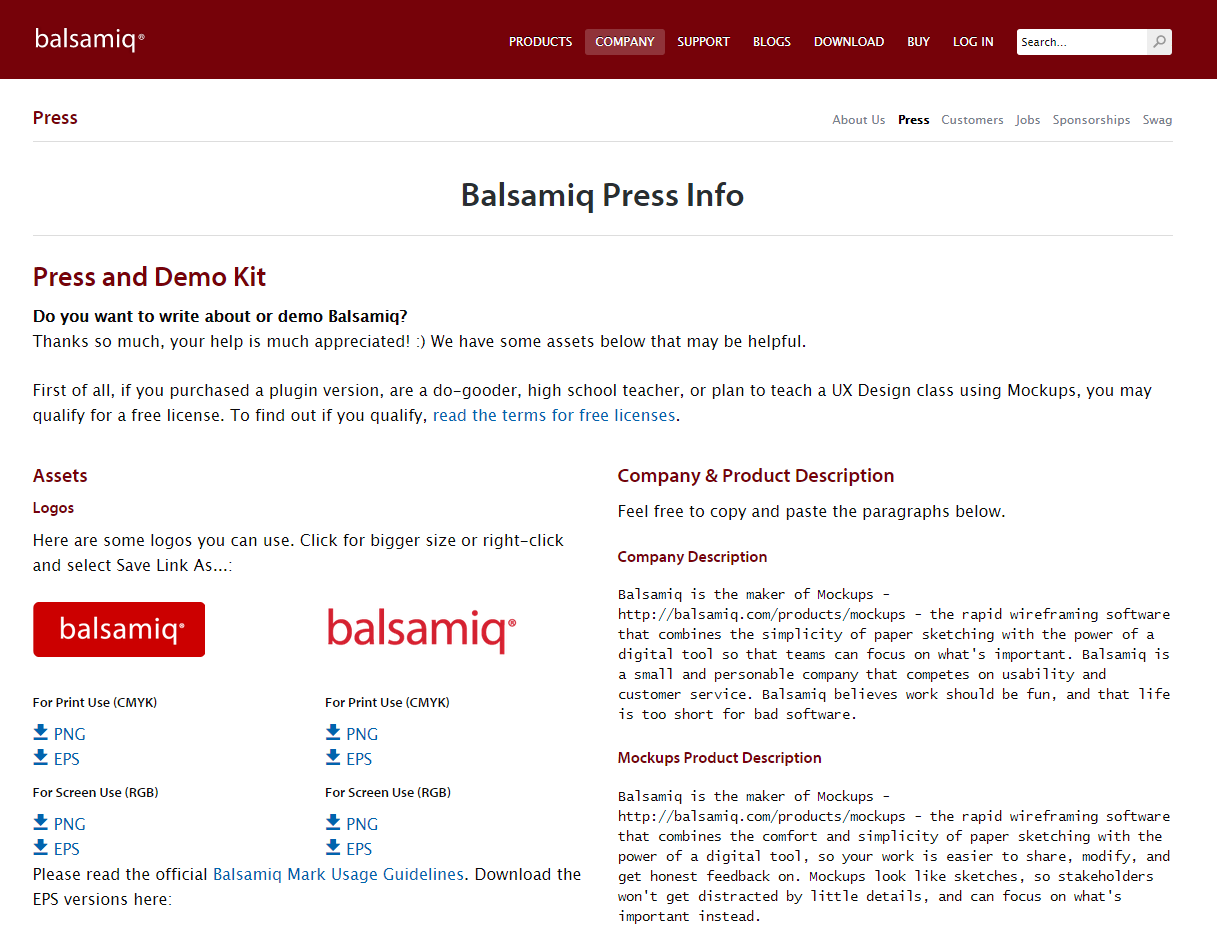 The above is a screenshot from Balsamiq's website that shows their press kit that can be accessed by journalists to get any information they need to complete any features on them.
You don't necessarily have to host it on your website (we didn't for BuildFire) as you can send it over in a .zip file, but I'd recommend hosting it online so that it's easier to access.
Here's a breakdown of what you should include within your press kit:
Introduction/pitch letter – this should explain why people should care about your product.
Company history/profile – an overview of the company and its core staff.
Logo/product images – you'll want a few variations of your company and product/service logos that can be used by the press.
Screenshots/videos – simple screenshots of the product in action, along with a walkthrough video.
News coverage – any other news or coverage around your product/business should be shown here.
Speeches/interviews – any talks at events or interviews with your founders.
FAQs – this gives journalists a quick resource to get their questions answered.
Awards – any awards you've received.
Stats/case studies – any statistics on your product or successful customer case studies.
This will give you the best possible chance of securing coverage from the publications you're targeting. Not only that, but it can also be used as a blogger pack too.
Once you've compiled all of the information and if possible, hosted it on your website, you'll want to craft an email pitch template.
One of my favourite templates to base my outreach around was scripted by Paul Sawers on TheNextWeb, but here's my own guidelines for creating the perfect pitch:
The body of the email shouldn't exceed 190 words.
The email must address the recipient by their name.
It must give a very brief intro of who I am and who my client is (if I'm pitching on their behalf).
The pitch section should get straight to the point of what the content is and take up no more than two paragraphs.
Never send over the content in the pitch email. Wait until you've had the go ahead from them.
If the content is very complex, use bullet points to get the idea across in a concise way.
Give an emotional hook for the recipient to want more information.
Every pitch should be unique and add a personal touch if possible.
Explain how publishing the content will be mutually beneficial.
You should have a good understanding of what the recipient publishes to ensure that the content is completely relevant to them.
The email subject should be no longer than 55 characters and should encompass the content idea within it.
Get straight to the point and don't use buzzwords!
#7 Ranking for Links
This approach that I'm about to go through forms the basis of the majority of the SEO campaigns that I work on and is probably the most effective method for earning organic links over a sustained period of time.
By 'Ranking for Links', I'm talking about ranking content for phrases that people will be searching for in order to get references for their own content.
For example, take this simple process:
I want to create an article that talks about the devaluation of a Facebook like (true story).
In the scene-setting paragraph, I give a stat about Facebook's organic reach.
I now need to substantiate this statistic with a reference.
I Google, "Facebook organic reach stats".
After opening a few of the results in my browser, I choose the most relevant and credible webpage and then link to it within my article.
Within this process, content ranking in the top 3-5 results on page 1 for "Facebook organic reach stats" have a chance of earning a link.
If you consider that "Facebook organic reach" is searched for [at the time of writing] around 1,600 times each month, this could land you a number of links from different domains on a monthly basis.
Now, if you could scale this over a larger number of keywords then you've pretty much created a continuous flow of new contextual links coming through to your website.
Whilst you're probably not going to convert a lot of the visitors to these webpages into customers, the new links that they bring in will have an enormous impact on the rankings of the more competitive keywords you're trying to go after.
From my experience, content ranking for phrases including the following terms work best for earning organic links this way:
How to
Definition
Stats
Meaning
What is
List of
As you can see, these are all informational queries with low intent towards purchasing.
Within the BuildFire campaign, we had a steady flow of links coming through for content that ranked for terms like, "how to promote an android app", "how to submit to the app store" and "how to market an app".
Building a Glossary
If you're in an industry where there's a lot of confusing terminology (SEO springs to mind!), then you can take this approach to the next level by creating an industry glossary.
Not only can you rank for a number of different search terms, but if you're lucky you can appear in Google's Quick Answer box.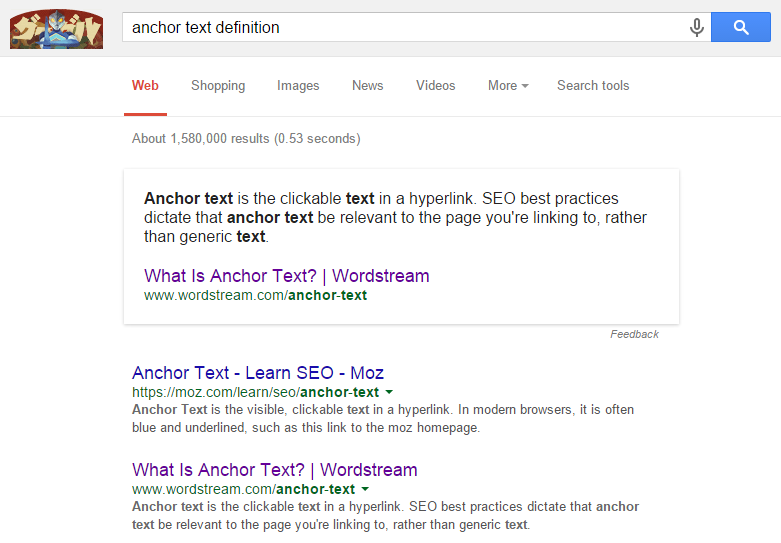 Not only have WordStream secured a Google Quick Answer box listing, but this webpage alone has had over 200 links from 48 different domains.
When you scale that across the rest of the articles in their glossary, that's a lot of links!

Bringing it all Together
The techniques and approaches that I've discussed here are just a sample of the work that has been done to take BuildFire from zero to one million pageviews in less than 12 months.
This should be enough to use as a blueprint for any campaign as the majority of the strategies will work with some slight tweaking towards a different audience and industry.
As usual, if you have any questions about anything I've discussed, drop them in the comments below and I'll do my best to answer them.